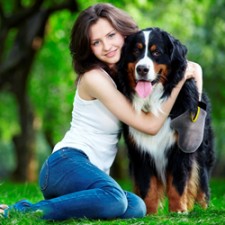 With many successful listings to date Pet Supplies company DakPets announces the latest addition to their range on Amazon: The Pet Grooming Glove - Fast and Professional Results for Dog and Cat Groomers.
Online, July 4, 2016 (Newswire.com) - Renowned Amazon retailer DakPets is known for their wide range of pet products including grooming tools, pet supplies and more. The company has now announced the Amazon launch of a new product. The DakPets Pet Grooming Glove which is now available on Amazon.
This Pet Grooming Glove is reportedly designed to make grooming a positive experience for pets. It can be used on dogs and cats alike, with no fur type being an exception. It comes with an adjustable design so it can fit comfortably on the hand and soft rubber bristles that stimulate the feel of petting or being lightly scratched.
Rob Scriven, a company representative, spoke about the product features in a press statement "DakPets is known in many countries for their premium quality pet supplies products. Our Amazon listings have a total of over 8,000 positive reviews and that is a testimony to the kind of high quality products our company provides. Our Pet Grooming Glove is a professional grade tool that helps pet owners tackle the task of at home grooming, without spending money at a professional pet groomer salon."
The company representative further added to his statement by announcing a limited time sale offering an additional 30% off by using the following coupon code (SSGLBRV5).
He then gave an in-depth review of the product features saying:"The DakPets Pet Grooming Glove is not any ordinary glove, but a feat of sheer excellence. This glove's soft rubber bristles soothe the pets and make grooming an experience that they will look forward to, and enjoy. With high-quality fabric and skin friendly silicon bristles, this glove promises longevity."
Reportedly, the company has announced further discount promotions in the near future.
Source URL: http://prweb.com/releases/2016/06/prweb13517907.htm
Share: